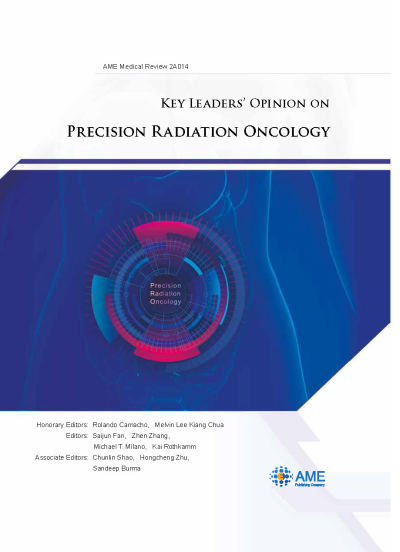 Key Leaders' Opinion on Precision Radiation Oncology
| | |
| --- | --- |
| Editors: | Saijun Fan, Zhen Zhang, Michael T. Milano,Kai Rothkamm |
---
Publisher: AME Publishing Company; 1st edition (2019)
ISBN: 978-988-79497-6-3
Hardcover: 353 pages
Language: English
Available at:

With the development of radiation physics, cutting edge technologies have pushed radiation therapy into the era of "precision medicine". Radiation biology, for its part, has also progressed in kind. For example, nanoparticles of radiosensitizer are on the way to in overcoming radioresistance. Biomarkers for response prediction to radiotherapy are helping physicians in decision making. More excitingly, the combination of immunotherapy and radiotherapy has shown very promising results in clinical studies!
This book, Key Leaders' Opinion on Precision Radiation Oncology, reports on many of the new, important contributions to the progress of radiation oncology by key opinion leaders. This is a very comprehensive series that summarize the current excitement in the field of clinical radiobiology and translational radiotherapy. The book will provide clinical oncologists, radiation biologists and other specialists an excellent update, and will stimulate new basic and clinical research activities.
We believe that the enthusiastic collaboration of experts in this field is essential to accelerating research in radiation oncology, and will eventually make progresses.
HONORARY EDITORS
| | |
| --- | --- |
| Rolando Camacho | World Health Organization and City Cancer Challenge, Geneva, Switzerland; Programme of Action for Cancer Therapy, International Atomic Energy Agency, Vienna, Austria |
| Melvin Lee Kiang Chua | Department of Radiation Oncology, National Cancer Center Singapore, Singapore |
EDITORS
| | |
| --- | --- |
| Saijun Fan | Institute of Radiation Medicine, Chinese Academy of Medical Sciences and Peking Union Medical College, Tianjin, China |
| Zhen Zhang | Department of Radiation Oncology, Fudan University Shanghai Cancer Center, Shanghai, China |
| Michael T. Milano | Department of Radiation Oncology, University of Rochester Medical Center, USA |
| Kai Rothkamm | Department of Radiotherapy and Radiation Oncology, University Medical Center Hamburg-Eppendorf, Germany |
ASSOCIATE EDITORS
| | |
| --- | --- |
| Chunlin Shao | Institute of Radiation Medicine, Fudan University, Shanghai, China |
| Hongcheng Zhu | Department of Radiation Oncology, Fudan University Shanghai Cancer Center, Shanghai, China |
| Sandeep Burma | Department of Biochemistry and Structural Biology, University of Texas Health San Antonio, San Antonio, TX, USA |
Table of Contents
Foreword