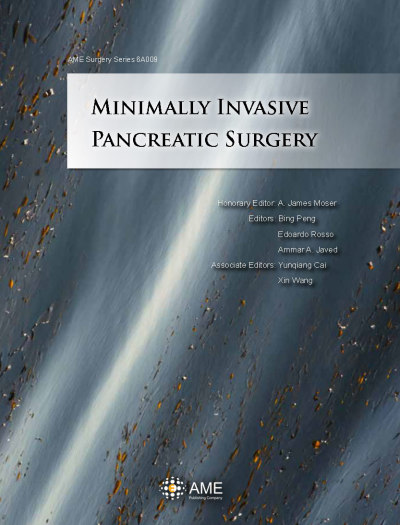 Minimally Invasive Pancreatic Surgery
| | |
| --- | --- |
| Editors: | Bing Peng, Edoardo Rosso, Ammar A. Javed |
---
Publisher: AME Publishing Company; 1st edition (2019)
ISBN-13: 978-988-78919-3-2
Hardcover: 193 pages
Language: English
Available at:
Minimally invasive pancreatic surgery is not any more in its infancy and is currently an established approach for many patients. Worldwide, HPB surgeons and HPB team, are approaching, more and more, by minimally invasive techniques tumors once reserved exclusively to open surgery.
The present book is an excellent companion for the young as well as the experimented surgeons; it's a collection of technical articles and videos written by the most experimented leaders in the field of minimally invasive pancreatic surgery. The book covers not only basic interventions such as standard distal pancreatectomy and standard pancreaticoduodenectomy but even vascular resections and complex cases.
Interestingly, the book reports both laparoscopic and robotic interventions, moreover, different techniques and approaches are proposed for the same intervention (ex. distal pancreatectomy) according to the strategies adopted by each surgical team.
The reader can go through book from the first to the last page or read separately the chapters, indeed, each section is independent and it include a complete and up dated list of references.
It is a practical book rich of tips and tricks of priceless value for the HPB surgeons, moreover, the authors share their experience for the implementation of a minimally invasive program for pancreatic surgery including training.
Honorary Editors
| | |
| --- | --- |
| A. James Moser | The Pancreas and Liver Institute, Beth Israel Deaconess Medical Center, Harvard Medical School, Boston, MA, USA |
Editors
| | |
| --- | --- |
| Bing Peng | Department of Pancreatic Surgery, West China Hospital, Sichuan University, Chengdu, China |
| Edoardo Rosso | Department of Surgery, Istituto Fondazione Poliambulanza, Brescia, Italy |
| Ammar A. Javed | Department of Surgery, The Johns Hopkins University School of Medicine, Baltimore, MD, USA |
Associate Editors
| | |
| --- | --- |
| Yunqiang Cai | Department of Pancreatic Surgery, West China Hospital, Sichuan University, Chengdu, China |
| Xin Wang | Department of Pancreatic Surgery, West China Hospital, Sichuan University, Chengdu, China |
Table of Contents
Foreword
Preface