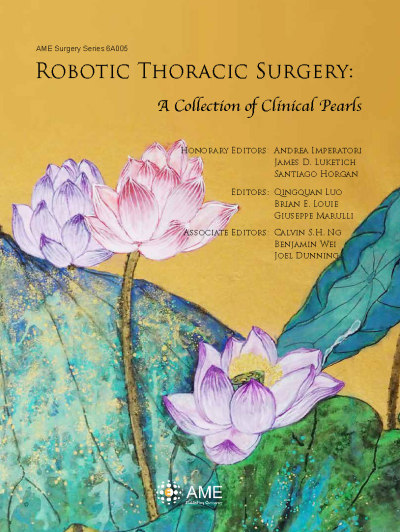 Robotic Thoracic Surgery: A Collection of Clinical Pearls
| | |
| --- | --- |
| Editors: | Qingquan Luo, Brian E. Louie, Giuseppe Marulli |
---
Publisher: AME Publishing Company; 1st edition (2019)
ISBN-13: 978-988-78920-3-8
Hardcover: 208 pages
Language: English
Available at:
The Robotic Thoracic Surgery: A Collection of Clinical Pearls, is a collection of papers, recently published by experts in this fields working in renowned Centers all over the world, which provides an exhaustive review of surgical aspects and current debated issues of robotic approach to thoracic surgical disease.
In its three sections, Thymectomy, Esophagectomy and Pulmonary Surgery, the authors discuss different robotic surgical techniques highlighting their positives and negatives, indications to robotic surgery in mediastinal and lung disease, complications related to robotic approach and advantages and disadvantages of using robots over other minimally invasive approach such as uniportal and multiportal VATS.
In this way, the reader has a complete scenario of current robotic thoracic surgery and this textbook may be used by young surgeons as a guide, while they approach this art. Moreover, we guess that also senior surgeons may have a great opportunity to go deep into the topic of robotic surgery, profitably comparing their clinical practice with the reported experiences of the most relevant experts in this field.
Honorary Editors
| | |
| --- | --- |
| Andrea Imperatori | Center for Thoracic Surgery, Department of Surgical and Morphological Sciences, University of Insubria, Ospedale di Circolo, Varese, Italy |
| James D. Luketich | Department of Cardiothoracic Surgery, University of Pittsburgh School of Medicine and the University of Pittsburgh Medical Center, Pittsburgh, PA, USA |
| Santiago Horgan | Department of Surgery, University of California San Diego, San Diego, CA, USA |
Editors
| | |
| --- | --- |
| Qingquan Luo | Department of Oncology, Shanghai Lung Tumor Clinical Medical Center, Shanghai Chest Hospital, Shanghai Jiao Tong University School of Medicine, Shanghai, China |
| Brian E. Louie | Division of Thoracic Surgery, Swedish Cancer Institute, Seattle, WA, USA |
| Giuseppe Marulli | Thoracic Surgery Unit, Department of Organ Transplantation and Emergency, University Hospital of Bari, Italy |
Associate Editors
| | |
| --- | --- |
| Calvin S.H. Ng | Division of Cardiothoracic Surgery, Department of Surgery, The Chinese University of Hong Kong, Prince of Wales Hospital, Hong Kong, China |
| Benjamin Wei | Division of Cardiothoracic Surgery, University of Alabama- Birmingham Medical Center, Birmingham, Alabama, USA |
| Joel Dunning | Department of Cardiothoracic Surgery, James Cook University Hospital, Marton Road, Middlesbrough, UK |
Table of Contents
Foreword
Preface