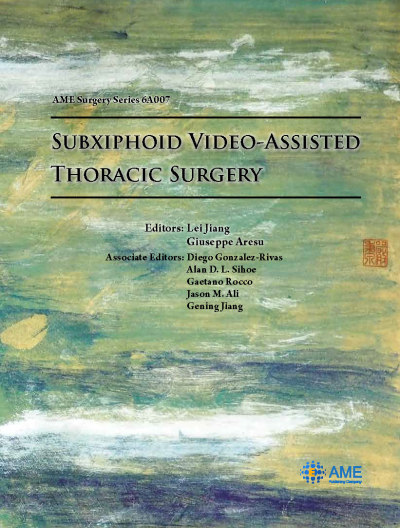 Subxiphoid Video-Assisted Thoracic Surgery
| | |
| --- | --- |
| Editors: | Lei Jiang, Giuseppe Aresu |
---
Publisher: AME Publishing Company; 1st edition (2018)
ISBN-13: 978-988-79496-1-9
Hardcover: 150 pages
Language: English
Available at:
In 1995 the treatment guidelines of the American Society of Clinical Oncology considered an improvement in Quality Of Life to be a necessary objective in justifying the recommendation of a new therapeutic strategy for patients with cancer.
In this view the development of the minimally invasive thoracic surgery had the purpose to achieve the same oncological results in a less traumatic way leading to an improvement of several post operatory quality of life determinants.
From the first thoracoscopic procedures introduced in the first years of the 20th century, we have assisted a constant evolution of techniques and technologies but the real revolution started in the early 90's when the first VATS major anatomic lung resection was performed by Roviaro.
From that point a new way has opened and, after a slow diffusion plenty of difficulties and detractors, in the last fifteen years the VATS techniques have spread worldwide.Many studies have shown the minimally invasive approach benefits and in the last years even the official guidelines have recommended it the preferred option even in the case of lung cancer resection.
This book provides a summary of different procedures carried out using the subxiphoid approach. Furthermore we have given space to hot topics in this field like lymphadenectomy, bilateral procedures and learning curve.Some of the best world experts in this technique have been involved in this book edition, I hope that their experience and their futuristic vision will help to spread subxiphoid VATS all over the thoracic surgery community making our work less invasive and less painful for our patients.
Editors
| | |
| --- | --- |
| Lei Jiang | Department of Thoracic Surgery, Shanghai Pulmonary Hospital affiliated to Tongji University School of Medicine, Shanghai 200433, China |
| Giuseppe Aresu | Department of Cardiothoracic Surgery, Papworth Hospital, Cambridgeshire, UK |
Associate Editors
| | |
| --- | --- |
| Diego Gonzalez-Rivas | Department of Thoracic Surgery, Shanghai Pulmonary Hospital, Tongji University School of Medicine, Shanghai 200433, China; Department of Thoracic Surgery, Coruña University Hospital and Minimally Invasive Thoracic Surgery Unit (UCTMI), Coruña, Spain |
| Alan D. L. Sihoe | Department of Surgery, The University of Hong Kong, Hong Kong, China; Department of Surgery, The University of Hong Kong Shenzhen Hospital, Shenzhen 518053, China; Department of Thoracic Surgery, Shanghai Pulmonary Hospital, Tongji University, Shanghai 200433, China |
| Gaetano Rocco | Department of Surgery, Memorial Sloan Kettering Cancer Center, 1275 York Avenue, New York, NY, USA |
| Jason M. Ali | Thoracic Surgery, Royal Papworth Hospital NHS Foundation Trust, Papworth Everard, Cambridge, UK |
| Gening Jiang | Department of Thoracic Surgery, Shanghai Pulmonary Hospital, Tongji University, Shanghai 200433, China |
Table of Contents
Foreword
Preface